---
---
2012-03-08 : Good Fun Things
Hello, friends!
While all this has been overflowing my poor little blog I haven't been able to tell you about a couple of good things.
1. MOBILE FRAME ZERO: RAPID ATTACK!
You know how 10 years ago I designed a fun little giant robot tabletop minis game you play with Lego? Well.
At GameStorm a couple of years ago, this game came to the attention of Mike Pondsmith of R. Talsorian. For those of you who don't know, R. Talsorian owns the trademark "Mekton," "Mechaton" in Japan. After the con R. Talsorian contacted me and "asked" me to change my game's name.
I decided that the best, most fun way to comply with their "request" would be to publish a fancy new edition. Which I promptly didn't do. Fortunately, they allowed me to sell through my existing stock instead of insisting that I destroy it.
Then, a little while ago, my friend Joshua was like "Mechaton 10th anniversary edition?" We've been playing the game and messing around with it together for all these years, so I was like, "holy crap am I busy, for reals. If you want to make it, though, I am RIGHT THERE."
He enlisted Lego design rock star Soren Roberts to create new mechs, we impressed my son Sebastian for good measure, and here's the upshot: Mobile Frame Zero: Rapid Attack.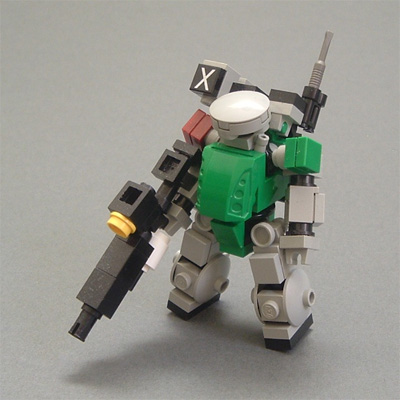 2. MONSTER MANIA CON!
This weekend, like, starting tomorrow, I'm going to be at Monster Mania Con in Philadelphia. I'm teaming up with a couple of my fellow purveyors of horror and we're going to find out if horror fans like horror games!
It'll be Epidiah Ravachol, Bret Gillan, and yrs trly at a table with Apocalypse World, Dread, Dread House, Final Girl, Murderous Ghosts, Poison'd, Serial Homicide Unit (by Kat & Mike Miller), and Shelter In Place (by J.R. Blackwell). I can't even wait.
Know who else will be at the con? Robert Englund, Gunnar Hansen, Christine, Nicholas Brendon, David Prowse, and a zillion more. I, um, really liked Nicholas Brendon in Kitchen Confidential.
---
---
1. On 2012-03-08,
Bret
said:
---
---
2. On 2012-03-08,
Gamethyme
said:
---
---
3. On 2012-03-08,
Paul T.
said:
---
---
4. On 2012-03-08,
Tim Ralphs
said:
---
---
5. On 2012-03-08,
Mantisking
said:
---
---
6. On 2012-03-08,
Vincent
said:
---
---
7. On 2012-03-08,
Micah Bauer
said:
---
---
8. On 2012-03-09,
Larry
said:
---
---
9. On 2012-03-10,
Leftahead
said:
---
---
10. On 2012-03-13,
Joshua A.C. Newman
said:
---
---
11. On 2012-03-14,
Leftahead
said:
---
---
12. On 2012-03-22,
Jeff Russell
said:
---
---
13. On 2012-03-23,
Joshua A.C. Newman
said:
---
---
RSS feed: new comments to this thread
This thread is closed to new comments.
---
---
home: anyway.
newer thread: 2012-03-12 : Indie POV pt 1: the Very Basics
older thread: 2012-03-08 : An Apology