---
---
2006-03-29 : DC Trip Report
Yes, I'm going to show you my vacation slides.
On Friday morning we met Sydney and his lovely family at the National Zoo. Sydney is excellent and has a lovely family; the National Zoo is pretty good and has some lovely animals. I practiced my animal cartooning: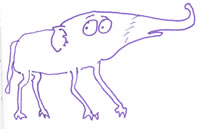 (An armadillo, a prehensile-tailed porcupine, an emperor tamarin, a giant elephant shrew.)
The key to drawing primates, I have decided, is to give them people noses. Check out the baby on that monkey.
We also saw their new baby panda, although to be honest my rendition is more animated than the real thing, which pretty much just looked like somebody left a toy panda up in a tree:


Then we had Lebanese for lunch with Sydney, and I ate more than my share of stuffed grape leaves.
I have an observation: serious game conversations don't happen when the would-be conversees have family responsibilities at the time. Hey Sydney, next time let's arrange to ditch out of our family responsibilities for a couple hours at some point and talk. Anyway after lunch Sydney had to go meet his plumber so we parted ways.
We lay face-down on our beds at the hotel for an hour or so and then walked down to see the monuments. We walked around the Washington Monument, flew kites, walked down past the whatever-it-is monument to the Vietnam War Memorial, then up to the Lincoln Monument. Lincoln was a very large man, apparently, although Washington was (ahem) larger.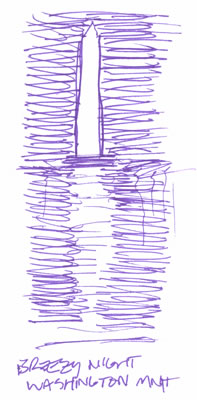 (Caption: breezy night washington mmt)
Then we walked back up to our hotel. Walking 0.7 miles downhill was fine. Walking 0.7 miles back uphill, after walking all to hell over the monument area, was not fine. Several of us died.
Those few of us who survived slept the sleep of the weary that night, though, I promise.
Saturday morning we (cleverly, we thought, although it did somewhat betray the memory of our fallen) took the metro down to the Smithsonian. We hooked up again with Sydney and his lovely family. First we went to the American History museum. Meg looked at all the first ladies' dresses - Meg's a costumer and a textile historian, did you know? She knows more about dresses than I know about games.
Fun fact: throughout history, most first ladies have been approximately 4 feet tall. Sebastian could have worn their dresses.
After the first ladies we went upstairs to the history of war area. I got to see maybe 15% of what I wanted to up there. Everybody else abandoned me to go look at other history things, and when they'd had their fill and come back up to find me I'd almost finished with the Revolutionary War. I made them wait even longer while I ran through the rest of the history of war, stopping only very rarely to sketch things quickly. Lord, give me a whole day, a whole weekend there, I'll have my fill.
Sydney and his lovely family had their own lives, so they were gone to live them before I quite finished.
We walked through one other thing but all I remember about it was war related: ration coupons, ration stamps, a book on how to feed your family on just your ration. I was glad to see them.
We ate snacks for lunch and pressed on to the National History museum. Again, we got to see maybe 15% of what interested us. We were letting the kids set the pace, so they'd have a fun trip instead of a tedious trip, but consequently we flew from exhibit to exhibit.
We got to see the ice man exhibit though. I hadn't realized how badly I wanted to see that. 5,000 years ago, a total competent guy with his tools and his life, totally within my comprehension. Good stuff.
We ate Polish sausage and snow cone from a street vendor and ran to the Air and Space Museum before it closed. As we'd gone, throughout the day, whenever we came upon a street musician I'd give the kids a buck and say "if you like his music, put this in his flute case / bucket / duffel bag." They did. Here's a cartoon showing sebastian and a trumpet player as it was starting to rain: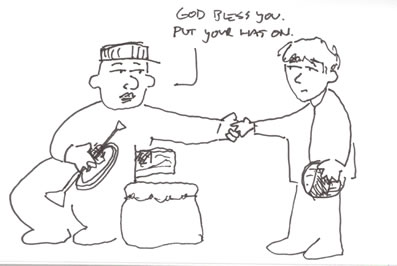 The air and space museum was cool, of course. I mean, duh. But my favorite was how small the space stuff is. It's like you're orbiting the earth in a little 2-door hatchback.
Here's a sketch of the metro station we waited in to go back to the hotel: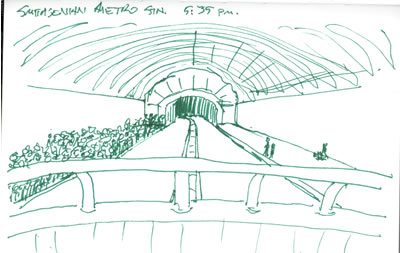 (Caption: smithsonian metro stn. 5:35 pm.)
We slept the sleep of the even wearier.
Then Sunday morning, what the hell, we figured, why not swing up through Gettysburg on the way home? Meg's always wanted to go there. So we did.
I sketched some guns:

That last one's a Civil War-era Savage Arms Navy Model, and it's huge. It's the size of a dustbuster, I'm not kidding you. Can somebody confirm for me that its second trigger, the lower one with the ring, is for advancing the cylinder?
We drove home and those few of us who'd survived the rigors of the trip died on our own back porch, trying to lug our luggage up the steps.
The end.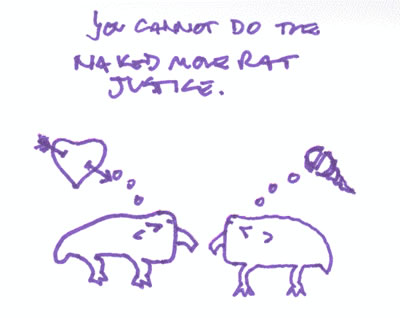 ---
---
1. On 2006-03-29,
Larry Lade
said:
---
---
2. On 2006-03-29,
Valamir
said:
---
---
3. On 2006-03-30,
Jason M
said:
---
---
4. On 2006-03-30,
Dave
said:
---
---
5. On 2006-03-30,
James Nostack
said:
---
---
6. On 2006-03-30,
Sydney Freedberg
said:
---
---
RSS feed: new comments to this thread
This thread is closed to new comments.
---
---
home: anyway.
newer thread: 2006-04-03 : We played it
older thread: 2006-03-28 : Stanislaw Lem died yesterday