---
---
2011-06-21 : the lumpley games PDF library $25 sale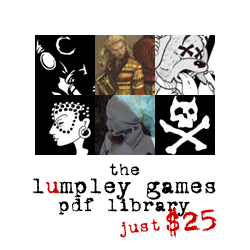 Hello my friends!
To celebrate the beautiful holiday, I'm putting the lumpley games PDF library on sale. $25 for five of the most interesting and controversial rpgs of the last decade, plus a fun little tabletop game about giant fighty robots.
Get 'em while they're hot! The sale will end with the July 4th weekend.
---
---
1. On 2011-06-22,
Grant
said:
---
---
2. On 2011-06-22,
Vincent
said:
---
---
RSS feed: new comments to this thread
This thread is closed to new comments.
---
---
home: anyway.
newer thread: 2011-06-26 : Q & A time
older thread: 2011-06-19 : Previously on Game of Thrones