---
---
2005-08-30 : Joshua BishopRoby on Rules
On his blog Game Foo, Joshua BishopRoby has just posted a draft of what he's calling the Interaction Model. It's good stuff, you should go read it.
By my reading he presents an interesting structure fitting this:



into this: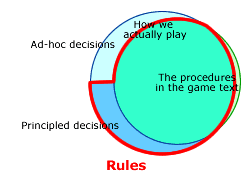 Charles, you asked me once to diagram just this relationship; I'd love to hear what you think of his construction.
I think he intends something grander, a rival to GNS, but he's committing a classic: he's treating CA as though it were built out of the moment-to-moment of play, instead of being fundamental at a higher time scale. I expect maybe five of you reading this to understand that, but there it is. Maybe this'll be more clear: it appears to me that he's still caught up in thinking about CA in technique terms, like many newcomers to the Big Model do. I'll go into more detail if anybody asks, especially if Joshua himself does.
Anyhow so what? Developing a working structure for the technical moment-to-moment is pretty frickin' grand already. Like I say, good stuff, you should go read it.
---
---
1. On 2005-08-30,
Adam Dray
said:
This makes...
JBR go "The players perform the interactions"*

*click in for more
---
---
2. On 2005-08-30,
La Ludisto / Josh BishopRoby
said:
---
---
3. On 2005-09-01,
Mike Holmes
said:
This makes...
BR go "There is a reason it looks like a feedback model"*
BR go "Also, Goal and Imagined only do not link directly if you ignore the emotionality of the game"*

*click in for more
---
---
RSS feed: new comments to this thread
This thread is closed to new comments.
---
---
home: anyway.
newer thread: 2005-08-30 : Coming-of-age Fantasy for Adults
older thread: 2005-08-25 : Dancing Vincent