---
---
2010-02-19 : Shared Positioning at the Micro
So we've got this: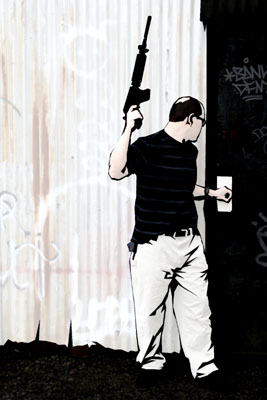 Now let's throw in this: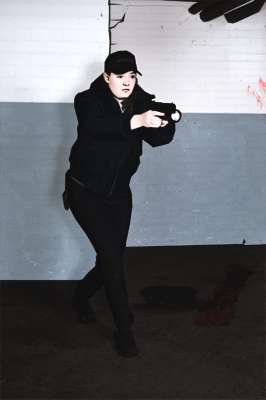 This: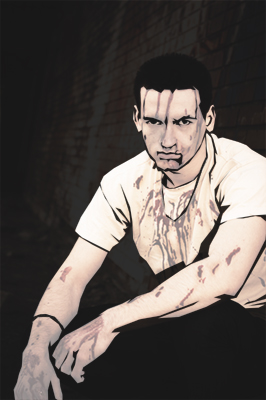 And some of this: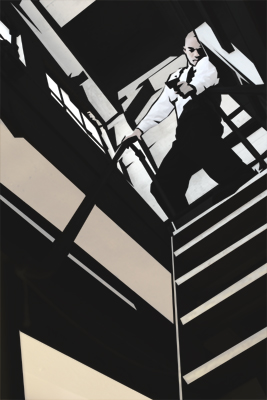 (Not shown: at least one dead body already, a boxful of cash.)
Each of these characters has evident qualities that they can bring to bear in action (effectiveness); reserves that they can draw upon or use up (resource); and qualities that locate and anchor them into their world, physically, emotionally, morally and so on (positioning). But today I want to zoom in on another thing: their immediate, shifting, short-term and micro-level positions with regard to one another. How far apart they are, what's between them, who can see whom, who's in motion toward whom and away from whom, who knows about whom, all that kind of stuff, right? Their immediate circumstances.
Now first: It should be obvious, if it hasn't been all along, that currency is in play both within any given character, and between the characters. My character opens fire on yours, I roll to hit and you mark wound boxes: it's your resource on your character sheet that my effectiveness changes.
And second: if you've ever seen a movie, you know that with a setup like this one, tiny changes in immediate circumstance can have dramatic cascading effects. Gun guy opens the door and bam, everybody's whole range of possible effective action changes dramatically. Somebody moves across the wrong window, somebody sees somebody's foot poking out around a corner, somebody crosses in front of the shadow where somebody else is waiting without first shining her flashlight into it - movements at this micro scale can transform a character at EVERY scale. "I have a gun" becomes "I have a concussion and no gun," "I've never killed" becomes "I've killed," "I'm fine" becomes "I'm experiencing precipitous blood loss and now I have seconds left to live."
This is currency! How do changes here become changes there? Answer: your game's currency rules.
I'm still working toward reliable vs unreliable currency, but next stop: circumstance-responsive vs circumstance-analytic rules.
---
---
1. On 2010-02-19,
Vincent
said:
---
---
2. On 2010-02-21,
Anarchangel
said:
---
---
3. On 2010-02-21,
Vincent
said:
---
---
4. On 2010-02-21,
John Harper
said:
---
---
5. On 2010-02-21,
Nathan Herrold
said:
---
---
6. On 2010-02-22,
Teataine
said:
---
---
7. On 2010-02-22,
James_Nostack
said:
---
---
8. On 2010-02-22,
Vincent
said:
---
---
9. On 2010-02-22,
Roger
said:
---
---
10. On 2010-03-02,
Joshua A.C. Newman
said:
---
---
11. On 2011-08-01,
stefoid
said:
---
---
RSS feed: new comments to this thread
This thread is closed to new comments.
---
---
home: anyway.
newer thread: 2010-02-23 : Can your brains just do it?
older thread: 2010-02-18 : Currency - Spanning Divide and Range