---
---
2014-11-02 : testing
Testing
6 comments (6 new)
Thread 819: from the top; first comment
---
---
2014-10-06 : Recently...
Watched (TV):
Beyond Survival.
Gravity Falls.
Jim Henson's Creature Shop Challenge.
Peaky Blinders.
Looking forward to:
Alpha House season 2.
Watched (movies):
Into the Woods (American Playhouse production with Bernadette Peters).
Killing Them Softly.
The Sacrament.
Tusk.
Looking forward to:
Fury.
Monsters 2.
Read:
Salen & Zimmerman, Rules of Play.
A bunch of old anyway posts.
Looking forward to:
The next issue of Worlds Without Master.
Wrote:
Nada.
Looking forward to:
Maybe some more short stories? That sounds fun.
Played:
Coup.
Dungeon of the Frog God!
Love Letter.
Tokaido.
Looking forward to:
Tower of the Storm Queen! Also, Deep in the Haunted Wood! After that, Space Station Mayhem!
Anybody have any recommendations?
14 comments (14 new)
Thread 818: from the top; first comment
---
---
2014-09-29 : AW:Dark Age: Conclusions from the First Playtest
Over in the Ecretsay Orumfay, I've posted my conclusions from the first playtest.
I'm not drawing the playtest to a close yet, so if you'd still like to give the game a try, you may. But I'm no longer actively seeking playtesting.
Thanks, everybody! The way forward is clear, though the ultimate outcome is not.
2 comments (2 new)
Thread 817: from the top; first comment
---
---
2014-09-01 : AW:Dark Age First Playtest
The first playtest document for the Dark Age is ready and available. To get it, log in or sign up at lumpley.com/index.php/awda.
I can answer general questions here, but Meg and I would like to conduct the bulk of the playtesting on G+ and over at the Ecretsay Orumfay. Whichever you prefer, we'll see you there!
12 comments (12 new)
Thread 816: from the top; first comment
---
---
2014-08-30 : AW:Dark Age playtest preview: Peoples
One last preview before the playtest document!
I'm kind of nervous about this one. Meg and I aren't willing to publish a fantasy game that doesn't handle race well, given the racism so prevalent in the source material. But at the same time, I'm a lot more secure in my ability to handle gender and sex well (as you see in Apocalypse World) than I am race. I'm a little timid.
So here's how we're trying to do it. We're eager to hear what you think, and naturally we'll take your challenges to it seriously and be very happy to answer any questions you have.
Click for the PDF. Two pages this time: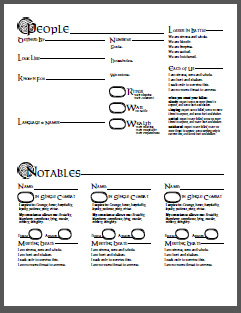 26 comments (26 new)
Thread 815: from the top; first comment
---
---
2014-08-26 : AW:Dark Age playtest preview: Battle Moves
32 comments (32 new)
Thread 814: from the top; first comment
---
---
2014-08-25 : AW:Dark Age playtest preview: the Castellan
19 comments (19 new)
Thread 813: from the top; first comment
---
---
2014-08-22 : AW:Dark Age playtest preview: a War Company
9 comments (9 new)
Thread 812: from the top; first comment
---
---
2014-08-21 : AW:Dark Age playtest preview: Rights of War
19 comments (19 new)
Thread 811: from the top; first comment
---
---
2014-08-20 : AW:Dark Age playtest preview: the Troll-killer
30 comments (30 new)
Thread 810: from the top; first comment
---
---
2014-08-18 : AW:Dark Age: 2 to go
7 comments (7 new)
Thread 809: from the top; first comment
---
---
2014-07-27 : The Days are Few and Busy
16 comments (16 new)
Thread 808: from the top; first comment
---
---
2014-07-25 : RPGs Have Objects, Q&A
28 comments (28 new)
Thread 807: from the top; first comment
---
---
2014-07-24 : The Trouble with RPGs (ii)
16 comments (16 new)
Thread 806: from the top; first comment
---
---
2014-07-23 : The Trouble with RPGs
54 comments (54 new)
Thread 805: from the top; first comment
---
---